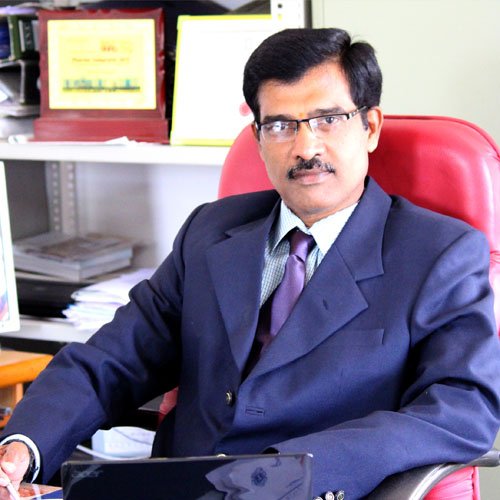 Prof. Krishna Mohan Chinnala
Dean – School of Pharmacy
ABOUT DEAN - SCHOOL OF PHARMACY
Prof. Krishna Mohan Chinnala is currently working as Dean, School of Pharmacy, Nalla Narsimha Reddy Educational Society's Integrated Campus, Hyderabad. He obtained his Bachelor's Degree in Pharmacy from University College of Pharmaceutical Sciences, Kakatiya University, Warangal in 1994, Master of Pharmacy (through GATE-96 admission) from Department of Pharmaceutical Sciences, College of Engineering, Andhra University, Visakhapatnam in1998 and Ph.D from University College of Pharmaceutical Sciences, Kakatiya University, Warangal in 2009. He also did his M.Sc (Psychology) from Kakatiya University, Warangal in 2013. He has received Junior Research Fellowship (1996- 1998) from All India Council for Technical Education (AICTE) and Senior Research Fellowship (2003- 2006) from Department of Biotechnology (DBT), New Delhi during his PG and Ph.D respectively.
Dr. Chinnala is an Eminent Professor and accomplished Researcher in Pharmaceutical Sciences. Having excellent skills in Experimental Pharmacology as well as Formulation Development. He has published and presented about 25 research papers in various national, international journals and conferences. Dr. Chinnala has an extensive research experience in Novel Drug Delivery Systems like Nanoparticles, Solid Lipid Nanoparticles and Pre-clinical & Clinical Evaluation of new drugs. He has guided 30 M.Pharm students and 1 PhD student. He has delivered more than 20 invited talks on different topics of Pharmaceutical Sciences at various National, International Conferences, Quality Improvement Programs and Faculty Development Programs. He is a reviewer of many National and International Journals of Pharmacy and allied fields. He has attended many national & international symposiums and workshops.
Earlier he has worked in reputed organizations like Shadan Women's College of Pharmacy, Hyderabad, Vaagdevi College of Pharmacy, Warangal and St.John College of Pharmacy, Warangal in various capacities such as Sr. Lecturer, Assistant professor, Associate Professor, Professor, Head of the Department and Principal for about 15 years. He has served as Principal & Professor at St. John College of Pharmacy, Warangal, Andhra Pradesh for six years.
He is a Life member of various professional bodies like Indian Pharmaceutical Association (IPA), Indian Pharmacological Society (IPS), Indian Pharmacy Graduate Association (IPGA), Association of Pharmaceutical Teachers of India (APTI), Member of American Association of Pharmaceutical Scientists (AAPS), USA, International Society of Ethno Pharmacology (ISEP), Laboratory Animal Scientists Association (LASA), Society of Toxicology(STOX).
He is a Member, Board of Studies at Faculty of Pharmaceutical Sciences, Kakatiya University, Warangal. He has organized quite a number of work shops, symposia, seminars. He is an examiner and paper setter for B.Pharmacy and M.Pharmacy courses of various Universities and different boards of Medical Sciences.
---
DEAN's Message
Pharmacy course features a responsible and respectable stand in the society, and the requirement of skilled pharmacists is inevitable, to meet the medical needs. We understand the importance of this course, and implement futuristic coaching for the evolution of our students into fine professionals.
A research based approach yields formidable results for the talent accession of the students, and we follow it systematically in the academic proceedings. The exceptional knowledge earned due to the involvement in the pharmaceutical experiments, raises the skill level of the students formidably.
On the top of imparting pharmaceutical knowledge, we emphasize vivaciously on enlightening the students about their duties towards the society. The pharmacy professionals should interpret the medical requirements of the people precisely, and provide the needed medications. Also, they should commit for conducting path breaking experiments in the field, which can lead to the inception of highly effective drugs.
We utilize the fine medical teaching practices to promote impeccable skills in the students, so that they can reach excellence in the sector.